Wyoming State Parks and the Division of Cultural Resources are hosting a sample of the collections maintained by our agency as part of the Western Trails Project sponsored by IMLS through the Colorado Digitization Project. All of the collections available are linked by a "trails" theme. Collections from the Wyoming State Archives, Museum, State Archeologist, State Parks, and State Historic Preservation Office are available. Each section has unique items, yet are all part of the documentation of Wyoming's history.
Wyoming has always been a passage way across the continent; from Native American trade routes, to emigrant trails, to the building of the transcontinental railroad, to modern interstate highways, the state continues to be a transportation corridor for our nation. The collections provide a tangible link to individuals and groups who crossed the landscape. Photographs, diaries, artifacts, documents, and scrapbooks all help to build a rich appreciation of our history.
We hope that you enjoy this sample of our collection. If you are interested in obtaining images or are interested in researching our entire collection, please contact the Wyoming State Archives, 2301 Central Avenue, Barrett Building, Cheyenne, Wyoming 82002 or call 307-777-7826. They will be able to direct you to the appropriate section contact.

Featured Exhibit- Wyoming State Archives
Joseph E. Stimson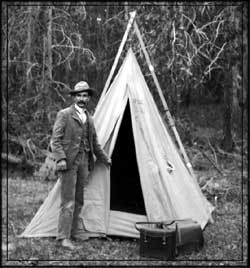 1870 - 1952

Joseph E. Stimson was born in Virginia in 1870 and spent most of his early childhood in the southern Appalachian Mountains of South Carolina. When he was thirteen, his father moved the family to Pawnee City, Nebraska. Three years later Joseph left for Appleton, Wisconsin, to work as a photographer's apprentice for his cousin, James Stimson. While in Appleton, Joseph learned the skills of portrait photography, details of both the collodian or wet-plate process and the new dry-plate process. He arrived in Cheyenne, probably at the suggestion of two brothers who worked for the Union Pacific, without a camera, a studio, or a clientele. He bought the studio and equipment of Wyoming pioneer photographer Carl Eitner, and in July of 1889, Stimson began making portraits.
In 1901 Stimson was hired as a publicity photographer for the Union Pacific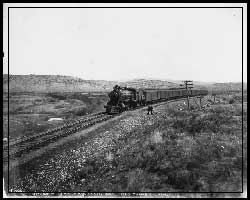 Railroad. The railroad needed photographs to help change the image of the scandal-plagued railroad and Stimson was given free rein to photograph anything that might draw investors to the railway. Besides the obvious subject of the railroad itself, Stimson was to photograph natural wonders, city scenes, farms and ranches, mining and irrigation projects, and anything else that might bring money to the new railroad.
In 1903 Stimson's reputation as a scenic photographer had grown to the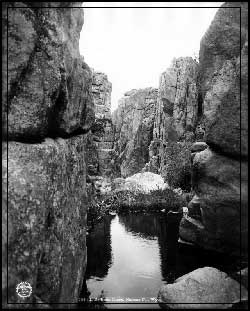 point that he was asked by the State of Wyoming to provide five hundred Wyoming scenes that would be displayed at the Louisiana Purchase Exposition to be held the following year in St. Louis. The prints were to be hand colored, a skill that Stimson often deployed before the advent of color film. He was awarded a silver medal for his views of mining and machinery, and two more silver medals for two other displays. By 1906, after only ten years in scenic work, Stimson had gained national recognition as a photographer and artist.
In the decades that followed, Stimson continued to produce thousands of photographs, including not only Wyoming scenes, but also Colorado, Nebraska, Kansas, Utah, Idaho, Nevada and California. Stimson died in 1952 at the age of 82 and is buried in Cheyenne..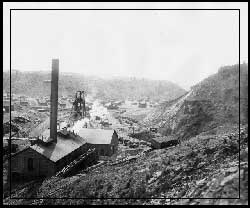 The Stimson collection was acquired by the state of Wyoming in 1953 and consist of over 7500 photographs, many of them on eight-by-ten glass-plate negatives. The collection also has several over sized hand tinted prints, many framed by Stimson personally. This collection is available to the public through the Wyoming State Archives. Copyright to the Stimson Collection is held by the Wyoming State Archives.